Welcome to Get Your Ride
Know what your want?
Don't waste your valuable time dealing with the hassle of shopping for a car...
All the websites, print adds, and car lots to search. Dealing with pressuresome sales staff.
Not sure?
We can help identify a vehicle that best meets your needs.
Get Your Ride is a customer-centric car search service.
We work with YOU to find the car that matches YOUR criteria.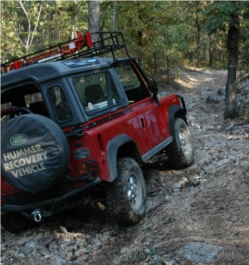 Found it:
Land Rover Defender 90
The Land Rover Defender 90 was imported into the US in limited number for only 3 years in the mid-nineties. Based upon my research I estimated that somehwere between 4,000 and 5,000 were imported and the majority that were for sale were being sold at or above their retail value. After weeks of researching I was able to find this vehicle for a stellar price allowing the owner to customize and take off-roading. The vehicle is great shape and impressed a Jeep Club with it's prowess.